Some 10,000 people have marched in Ankara to the centric Kizilay Square, starting from various neighborhoods. While the march began happily, the people singing, playing vuvuzelas and chanting slogans for the resignation of Erdogan, when the various columns arrived to Kizilay, police intervened with the usual violence (water cannons, gas canisters, etc.) After violent skirmishes, the square remains guarded by many police effectives.
In many neighborhoods people joined the protests with local concentrations and pot banging in the streets or from the homes.
In Istanbul and Izmir, protests continue with thousands of people in them but without police intervention now.
The Ankara protests have produced many impressive images like the one at the right, showing taxi drivers protecting demonstrators from the fury of police water cannons with their own cars.
Other images:
In other cities the ambient was more relaxed yesterday but equally determined and iconoclast:
In Istanbul it were women who took the lead on Friday, with a march in demand for their rights and role in society: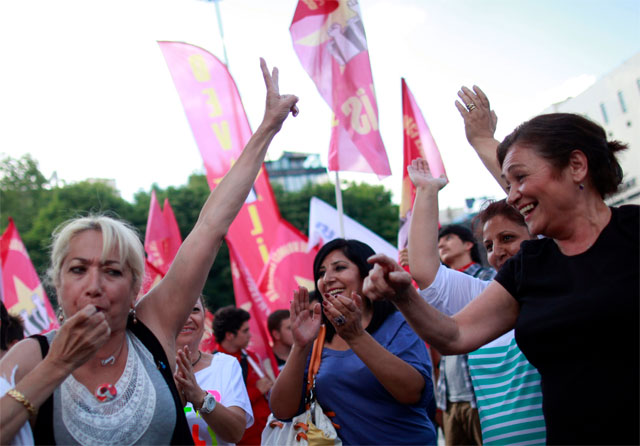 Source: Webguerrillero
[es]
(
link 1
,
link 2
,
link 3
,
link 4
).