Some quick news review:
End of times did not happen
As expected... some people have thrown away their savings on that scam.
Unemployed march in Greater Bilbao
Unemployed march through the Left Bank of Bilbao Estuary a large meteropolitan area of deep working class roots, ending in Sestao. Photogallery
at La Haine
.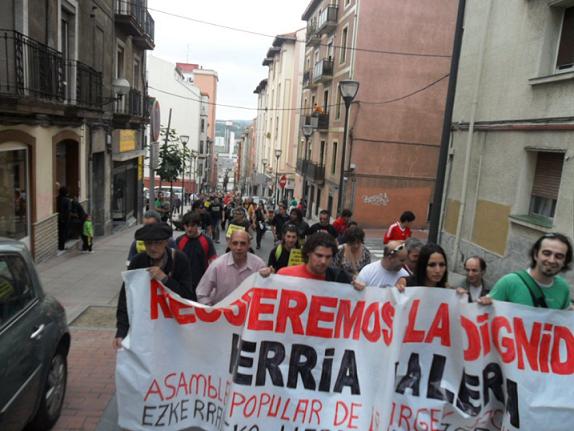 Demo for the right to demonstrate and express freely in our streets
In an act that was distinct from the May 15 movement too, but conceptually related maybe, the platform Vendetta Bilbao took over the Gran Vía, defying the fascist regulation imposed by the Christian-Democrat pro-bullfights major Azkuna with the odd support of United Left, doomed to vanish in today's elections.
Sources
[es]
:
Gara
,
Sare Antifaxista
.
Terrassa Assembly demands the end of monarchy (and a lot more)
It had to happen: when you demand
true democracy
, unelected medieval kings are obviously to be taken out.
The Assembly of
Terrassa
, near Barcelona, approved a manifesto that can be read in full
at Kaosenlared
[es/cat]
. Its main points are:
No more privileges for politicians: salary and pension system massive nerfing, stop immunity for corruption cases
No more privileges for bankers: not to any "rescue" of banks, if needed they will be nationalized and transformed into public social banks, immediate return to the public coffers of all state inputs, stronger regulations, illegalization of investments in tax heavens, all foreclosed homes will be allocated to social renting.
No more privileges for large fortunes: increase of taxes for large fortunes, restoration of patrimonial taxes, effective control of tax evasion and Tobin tax (this would finance the following points).
Against unemployment: divide jobs (reduce journeys) until unemployment is under 5%, retirement at 65, no increase in this age until all youth unemployment has been suppressed, bonus for companies with less than 10% of temporary contracts, safety of employment (make firing people near-impossible while there are benefits), control to prevent that stable jobs end up in temporary contracts, long term unemployment subsidies and basic universal salary.
Right to a home: expropriation of unused houses, no to foreclosures, make "mobbing" illegal, that foreclosures cancel mortgages in retroactive manner (currently Spanish law is extremely unusual in that), make housing speculation illegal.
Public quality services: retrieval of budgetary cuts, restoring of cutoff services in healthcare and education, hiring of health workers until waiting lists end, social participation in the management of public hospitals, more teachers, guarantees for equal access to education, public financing of research in order to guarantee its independence, quality and ecological public transport, making illegal to privatize public services.
Liberties and democracy: not to control of Internet, protection of freedom of information and research journalism, suppression of legal obstacles for non-profit communitarian media, suppression of the radio monopolies, use of free software in public institutions, removing "civic" regulations (restricting free expression), compulsory referendums in all major issues (including EU directives), stop to police hostility towards immigrants, removal of the current foreigners law, right of vote for migrants, modification of the electoral law into a truly representative and proportional system that does not discriminate against any force and where blank/null vote can create empty seats and active abstention is acknowledged as a political option, participative budgets, right of the peoples to decide on how resources are used, monarchy is an anachronism, suppression of all nobility titles, suppression of the law of political parties, recognition of the right of peoples and persons to self-determination, right to reply in the media against false accusations.
Reduction of military budget
Measures for a sustainable development: promotion of responsible consumerism, proximity trade, cooperatives, renewable energies, suppression of all nuclear plants, regulate programmed obsolescence (expanding the compulsory guarantee period accordingly), agriculture without GMOs or pesticides, natural therapies available in public healthcare, add environmental cost to products' prices, make sustainable public transport cheaper and widespread, expand natural protected territory.