Tens of thousands have marched in three columns through Madrid to Congress, which is debating even more laws against society and human dignity. The protest demands:
The resignation of the Government, dissolution of Parliament and Monarchy, on grounds of lying to the People, bringing the country to total disaster.
The abolition of the current Constitution, described as neo-fascist
The initiation of a Constituent Process
Riot cops guarding the Spanish Congress
The sequence of main events so far has been:
Before 15:00 massive compulsory identification of people arriving to Madrid from all the State of Spain by police forces. Many buses' travelers have suffered whole body searches.
Since 13:00 the first protesters have been in Plaza Neptuno
15:30 The Plural Left - United Left group of congresspeople vote to join the march
16:15 Police arrest a man who was denouncing a plain clothes agent at Plaza Neptuno
17:50 Ten minutes before the official rally hour, some 10,000 people were already surrounding the Spanish Congress
18:20 Another arrest: a middle aged man with a banner of the Andalusian Workers' Union (SAT)
18:30 At Plaza Neptuno with some 10,000 people already protesting there, a plain clothes policeman has threatened with the use of a rubber bullet pistol but was eventually dissuaded by the peaceful attitude of those present, while others cried "we don't have any fear!"
18:50 4000 people march through Seville
19:00 people at Plaza Neptuno try to dismantle the police walls. Police charges ensue for the next half hour. At least one protester injured, five arrested
Internet TV resources:
internal Live Stream
,
direct reporting by Spanish public TV
.
Udpate:
since 21:00, 30 minutes before the authorization expired, police charged violently in Plaza Neptuno at the time most news programs could cover it directly.
A few activists reacted violently at some point also, it seems, but in general the protest was peaceful.
Many people have been arrested and/or badly beaten. One particularly unlucky victim of police violence has a backbone marrow lesion and could end up quadriplegic as result. Some other 13 injured people have been reported so far, one with a broken leg.
Plaza Neptuno was packed soon before police began charging
Video of one of the charges, where police attack random demonstrators and beats them badly (a common practice of the Spanish police since I have memory):
Plain clothes police have also been taking part in arrests and is plausible that they have been inciting the few violent incidents:
At 23:00 Plaza Neptuno was still resisting against the police charges. Many people had moved to Puerta del Sol however.
The
insider live channel
was still emiting at 23:05, expecting more police charges at any moment.
Latest was that tomorrow there will be more mobilizations, I heard that at 19:00 at Neptuno again but there is a press conference in the morning.
La Haine
[es]
has a report including the repression in Atocha Station with some different photos and videos.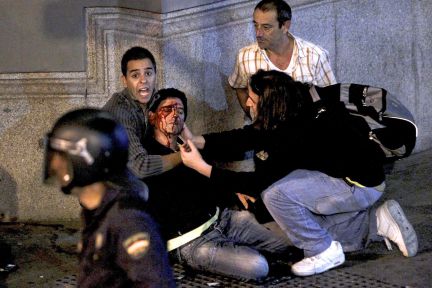 Seriously injured citizen
Popular Assembly in Puerta del Sol ··>
live stream
. (Update at 23:46).
A brief but nice photo report can be found
at Kasama
:
Some in the livestreams say that there was "one million people".
Elsewhere
in the State there were also protests, although often it is not well known how many people took place, etc. (
Kaos again
[es]
):
Barcelona hundreds or thousands gathered before the Catalan Parliament, which debated "general policy" and ended with President Mas calling snap elections for November on the issue of independence.
Valencian Country: Alacant (Alicante) and Valencia
Balearic Islands: Palma de Mallorca
Andalusia: Almería, Málaga, Cordoba and Seville had mobilizations, the latter surrounding the Andalusian Parliament, which gathered some 5000 people and suffered no incidents
Basque Country: Iruñea (Pamplona): "dozens", violently dissolved by police (Ateak Ireki

[es]

)
Galicia: Santiago
Canary Islands: Tenerife
Aragon: Zaragoza
Extremadura: Badajoz
La Rioja: Logroño
Elsewhere in Europe solidarity actions were also called:

Netherlands: Amsterdam
Germany: Berlin and Düseldorf
France: Paris
Not directly related but fueled by the same state of general discontent, tomorrow there are general strikes in the Basque Country and Galicia, coincident with the same call for Greece.
"Final" update (Sep 26):
After a violent charge Plaza Neptuno was finally evicted at 0:30. New protests have been called for today at 19:00 in Neptuno again.
The "final" body count is 64 injured (at least one severely so) and 24 arrested.
Source:
La Haine
[es]
.