In an obvious desperate attempt to scare the citizenry from taking part actively in the upcoming general strike of the 26th in the Southern Basque Country against social cuts and general robbery from the poor to give to the rich, masked members of the Basque Police (Ertzaintza) has arrested today a young citizen of Balmaseda, Imanol González, accused of participating in a sabotage.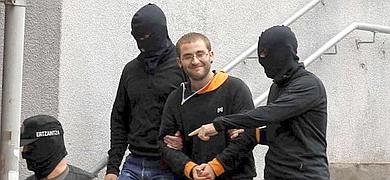 Source:
Boltxe
[es]
(has more photos),
Bilboko Branka
[eu]
.
In a separate and probably unrelated incident, another Basque citizen, Jon Igor Urresti Osa, was arrested in Ondarroa accused of collaboration with armed organization. The details of the accusation are unknown as of now but he's also been applied the anti-terrorist law that allows for five days of isolation.
Source:
Naiz
[es]
.
Update:
Maribi Ugarteburu, representing the Basque Nationalist Left (arguably the largest political force in the Southern Basque Country) denounced the unionist parties, PP and PSOE, for implementing war-like exception measures, not just because of these arrests but because of the totalitarian police persecution that the militant and sympathizers of the Basque Nationalist Left suffer everyday:
They control us at the roads and in our very homes, in front of our workplaces, directly and through the telephone.
Another speaker, Itxasne Fernández, said that they want to dissuade the Basque youth from building their own future by means of fear and pressure but that they will not achieve it.