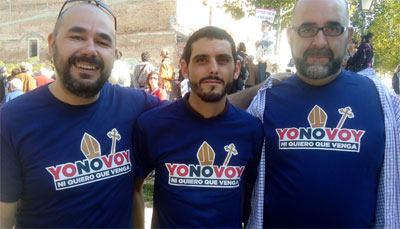 I'm not going
After many provocations by some Fundamentalist Christians, who had organized an unauthorized counter-demonstration and attempted to take over the emblematic Puerta del Sol square, where thousands of 'indignants' continued camping. Since c. 20:00 CET there was a war of slogans, each side insulting the other and eventually police charged against the free thinkers.
It seems that most of the Fundamentalist clash troops were Egyptians, or at least they carried Egyptian banners together with the occasional Spanish pro-bullfights and Vatican one. One of them, Raquel (described as wearing a green Popist shirt and wielding a Vatican flag) acknowledged to the media that it was all organized to provoke a clash with the secularists:
There is people from outside who does not know and is just doing tourism but others have come specifically because there was this demonstration.
No with my taxes. Secular state!
Let's not forget that a terrorist attack against this secularist demonstration was thwarted yesterday.
Since c. 22:30 there have been repeated charges in Madrid against the people who oppose the visit of the freak in the white robes who was a member of the Nazi Youth and who was later boss of the Holy Inquisition and who is getting €60 million for this visit out of our pockets, even if the state is supposedly secular.
··>
Gara
[es]
, also
this earlier news link
.
The Egyptian fundamentalist Christians (uh?)
Update:
video of the part of the demo and some of the repression by Al Jazeera (
via PO
):
Update:
Gara
reports that not even journalists could move freely in Madrid yesterday and were beaten by police. However all those carrying the standard "pilgrim backpack" in the very Spanish Nationalist colors red and yellow, could travel freely and unharmed.
Update:
photo-gallery from
La Haine
:
And another video: