Polity of Spain: Major impact of the general strike, at least 80 citizens arrested and several injured.
A deaf Congress passed an ultra-capitalist budget full of cuts and austerity for the poor but no effects for the rich and their mercenaries (police, military). While Spaniards fall into pits of misery, the Spanish army waste their money in Afghanistan, for example.
Today's struggle should continue in Madrid until late in the night as yet another attempt to surround Congress has been called for this evening.
More than 80 people arrested only by noon (many injured also) in a general strike that was a massive success of 80% or a massive failure of just 5% depending who you lend credit to.
A rather reliable source,
Economists Against the Crisis
[es]
, estimated that the electrical consumption that can be attributed to productive activities was down c. 60% (with minor variations 58-64% depending on the hour). So at least
60% following is a quite scientific estimate
(notice however that compulsory
minimal services
, very important in transport and other public services, are not discounted here).
I can assure you that 5% or even 10%, as many have claimed is an insult to intelligence and only shows the kind of shameless liars those sources and journalists are. Galicia was 100% closed by all accounts and this country alone makes up some 7% of the population of the state. And they were not the only ones, of course.
Full detailed following of the events can be found at
Kaos
or
La Haine
, for example, but in Spanish language (also at
Agència 29
in Catalan). So I will try to synthesize here some of the most important news and data.
General:
90% of mail workers walked out.
Many trials could not proceed, including some high profile ones, because attorneys or other personnel did not show up.
30 deputies (United Left, Amaiur, ERC, PSC...) decided not to take part in the debates and votes in Congress in solidarity with the general strike.
Massive participation in demos around the state (Madrid, Barcelona, Seville, Málaga, Valencia, Zaragoza, Granaza, Córdoba, A Coruña, Vigo, Cádiz, Murcia, and a long etcetera).
Core Spain (Neo-Castile):
Mercamadrid empty tonight
Madrid:
Unified anarchist and communist pickets forced closure of taverns since midnight (police retreated after an initial confrontation).
Mercamadrid 100% closed. Trucks enter but are not allowed to load or unload.
Iveco (trucks factory) 100% closed.
Telemadrid regional TV station could not broadcast at all. Ironically, some of its most fascist opinion commenters had already recorded their baseless proclamations about the failure of the strike.
15 arrested already before 5:30 am in clashes between police mercenaries and popular pickets (only 8 in the rest of the state). At least two injured.
Streets cut all night by fire barricades in the popular neighborhood of Vallecas.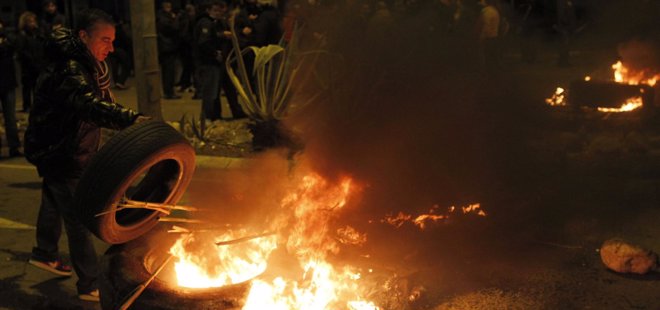 Actors occupied a centric theater for the day. Many artists also took part in the protests including oscarized director Pedro Almodóvar.
Evening "surround the Congress" protest charged by police before 20:00.
Asturias:
Police harassed pickets, injuring some (first injured by police violence in Xixon). Buses could not leave the hangar. Fire barricades in the harbor.
Trash collecting service blocked tonight in Uvieu (Oviedo).
The industrial and port city of Avilés reports all closed.
Bank offices and commercial centers closed by pickets.
Major road cuts in the miner districts, which report all closed (Mieres, Langreo, etc.)
Anticapitalist unions (CSI, CNT, CGT and SUATEA) complain that the mainstream yellow unions (CC.OO. and UGT) try to steal their demo by calling themselves with the same time
Cantabria: 90% stopped in the industrial night turn. Among the industries stopped are: Global Steel Wire, Saint Gobain Canalización, Draka, Trenzas y Cables (TYCSA) and Gamesa.
Zaragoza:
General Motors, Jonson Controls Alagón, Valeo Térmico, Exide, Tata Hispano Carrocera, Android Industries, Ronal Ibérica, Arcelor Mittal and Ti Group 100% stopped, among others. BSH-Balay, Lear, Mann Hummel, Ronal Ibérica, Johnson Controls and HP more than 80% workers walked out.
Large picket of 2000 closed bank offices. Two arrested.
At least two faculties closed. Clashes between pickets and private security mercenaries.
Some 10,000 people in the morning demo.
Huesca: Three arrested in the bike-picket.
Seville: Canal Sur could not broadcast at all.
Several regional TV stations were completely stopped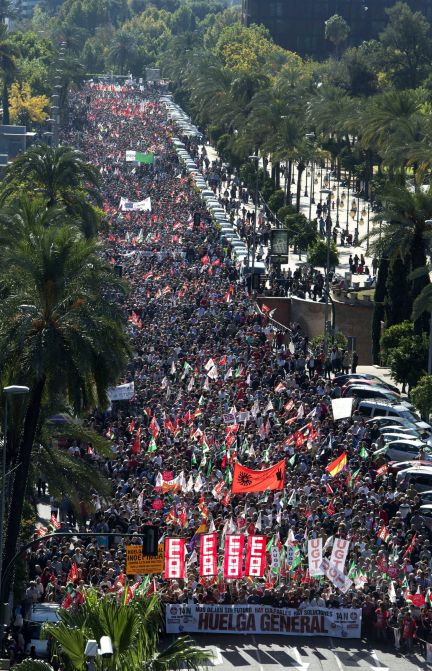 Córdoba
Córdoba: Some 45,000 people in the morning march.
Cádiz: A large demo of some 25,000 people heavily pressed by police.
Puerto Real: Airbus factory 100% stopped.
Granada:
A Mercadona supermarket was expropriated.
Several arrested in Pinos Puente.
More than 70,000 people in the evening demo (the city has just 237,000 inhabitants, what means that one of every three Granadinos (30%) was there).
Extremadura: major companies nearly completely stopped in the night turn at least.
Murcia: Violent clashes between a very intolerant police force, who attacked every picket on sight. People arrested for helping an injured victim of police brutality. Very large demo in spite of all.
Salamanca: Some 6000 people in the demo of the CNT alone. Major commercial center closed.
Toledo: a car went over two members of a picket at the entrance to the Arms Factory.
Ceuta: Nearly all closed. Large demo for the size of the sleepy colonial enclave, heavily affected by uneployment.
Catalan Countries:
Catalonia:
Barricades impeded any activity in Mercabarna (central fresh food distribution market) since 3:00 am.
SEAT and Nissan factories (cars) 100% closed.
TV3 completely blocked from broadcasting.
University's Biology Faculty occupied since the day before. An infiltrated police agent was kicked out causing massive police deployment in the surroundings.
Road and railroad cuts widespread at dawn in and around Barcelona.
A Consum supermarket expropriated by a feminist picket.
Huge "tide" of people reported at the afternoon demo in Barcelona.
At least 100,000 people in the alternative demo in Barcelona, the one called by the anticapitalist unions and social movements.
Mataró dawned with not a single petrol station working.
Tarragona: chemical industry area was totally stopped, as well as Pirelli (wheels), Mercadona logistic facilities, Codorniú (wines), Puleva (major food industry) and Makro. 30,000 marched in the afternoon.
(Update) Barcelona gathered such brutally high numbers of protesters that they can compare with the recent independentist demos (of one and 1.5 million) or seem to overshadow the huge figures seen in the last years in Cairo or Athens:
Video from La Vanguardia:

One of the most commented incidents is the police brutality against a young boy aged 13 and those people who protected him or protested the charge, as can be seen in this video:

Source: Pasado y Futuro

[es]

.
Valencia:
Pickets could only delay the activity of Mercavalencia.
100% closed: Ford, buses and railroads (save minimal services), RTVV (regional TV, aka Canal 9), harbors. More than 80% closed: industry in general, university, mail. More than 50% closed: distribution, health, education, administration, justice.
Industry in general: 80% closed, distribution: 70%,
Very repressive environment, with police attacking almost everyone active on the strike. At least on journalist injured by police.
Violent clashes and barricades therefore.
At least 22 arrested and two injured by 16:00.
Majorca: several arrested in Palma at least.
Galicia:
All closed everywhere according to even the less sympathetic media reports. At least 100,000 demonstrators in A Coruña. Four arrested in the protest.
Among other industries General Dynamics, Navantia and Arcelor-Mittal closed 100%.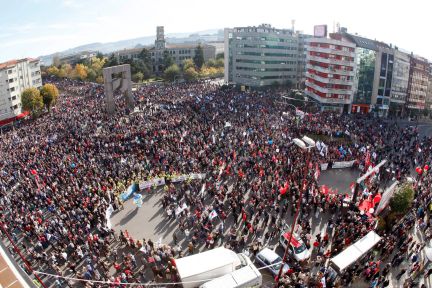 Vigo demo
At least 8 people arrested in this country.
Estimated in 500,000 the number of demonstrators in all Galicia (with 2.8 million inhabitants, that is almost 20% of the citizenry marching against austerity just today).
Basque Country:
Majority unions (Basque nationalist ones) did not call for this strike, what caused irregular following with most people just ignoring the call the occasional heated argument with the Spanish nationalist pickets.
But anyhow...
In Navarre, where there was maybe some more support but mostly independent from the mainstream Spanish nationalist yellow unions:
Volkswagen 100% closed.
Pickets of the radical left unions ESK, CNT, CGT and Solidari in Pamplona today, emphasizing banks and the murder-suicides that their financial terrorism is causing:
From
Ateak Ireki
. Demo in Iruñea (Pamplona): Source:
Ateak Ireki
. Huge alternative demo in the evening in Pamplona as well: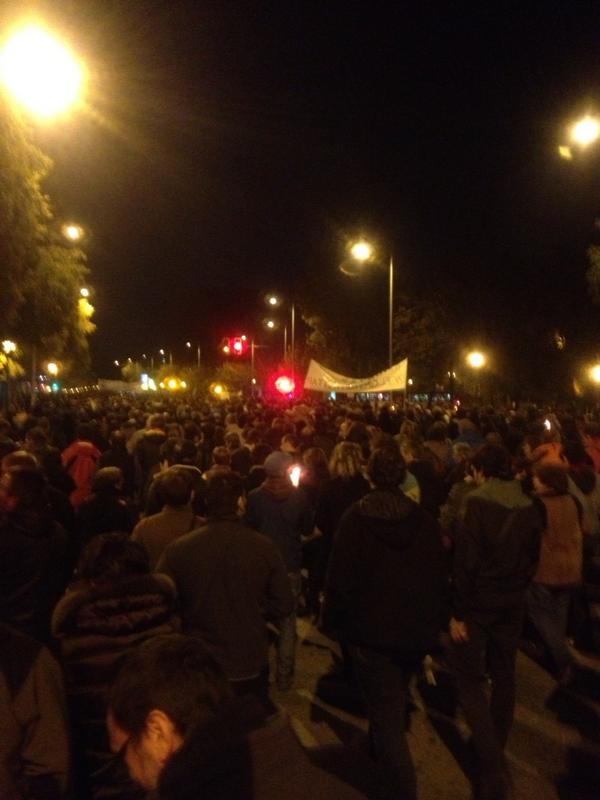 There were also protests in Baiona, in the Northern Basque Country:
Portugal:
The other major center of class struggle today was Portugal, where also a full fledged general strike was called.
I don't have much info as of now on Portugal but it seems that the following has also been massive, nearing 100%.
Police has brutally charged against the demo in Lisbon with ambulances coming and going for more injured. The aggressiveness of the mercenaries of the bourgeois oligarchy can easily be inferred by the fact that not less than three journalists have been injured, so imagine among commoners!
Italy:
Half day strike called in Italy, what is not a great idea at all. Additionally much of the country is underwater because of floods.
Bologna:
The iconic academic city of Bologna saw tens of thousands marching through the city, mostly students.
The CGIL march only mustered some 1000 people, showing that half-day strikes are stupid and nobody takes them seriously.
Germany:
General strikes are illegal in Germany (German laws are very fascist in general, a legacy of the Cold War, when Germany and Japan were established by NATO as model states at the ideological and physical "front" with the Socialist bloc, recycling to some extent at least the fascist cadres of the previous decades).
However demonstrations have been reported at least in Berlin.