In an apparent attempt to criminalize left-leaning football association (peña) Bukaneros (supporters of Rayo Vallecano), Spanish police has arrested at least 13 members of this association under the accusation of "membership in criminal gang", which would be no other than the very Bukaneros association.
In November 2012 police raided the see of this same association, apparently in retaliation for their lefty activism. One member Alfonso Alfon Fernández was arrested, suffering prison for two months.
The raids are clearly politically motivated and only aim to generate fear. The reasons why Bukaneros is being persecuted are in fact stuff like this: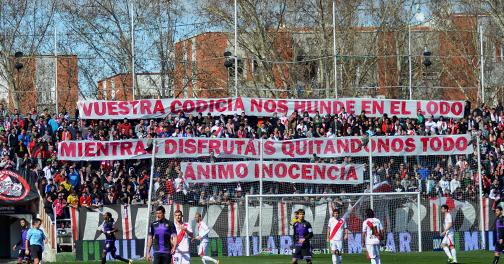 It reads:
YOUR GREED SINKS US IN THE MUD
WHILE YOU ENJOY TAKING ALL FROM US.
GO INNOCENCE!
Source:
Antifascista Sevilla
[es]
.