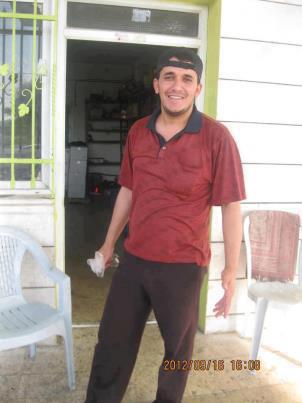 His alleged crime? Throwing stones.
Arafat Jadarat (pictured), 30, died in Zionist custody allegedly of cardiac arrest. His family assures he had no health problems whatsoever before his arrest.
Arafat was taken from his home on February 18, and was held in interrogation in Jalameh Detention Center, and then was transferred to Megiddo Prison. His brother says the Israelis who came for Arafat told him to "say goodbye " to his children. He was accused of throwing stones.





...



Palestinian Authority Minister of Detainees Issa Qaraqe said Jadarat died after being interrogated by Israeli forces and demanded an international investigation into his death, which has caused outrage in the West Bank and Gaza.

Over 4,000 Palestinian prisoners have staged a 24 hour hunger strike on hearing of the young man's death.

There have been marches in protest in Gaza, and Israeli forces in the West Bank clashed with demonstrators in Hebron, Beit Ummar, al-Arrub refugee camp, and Tulkarem, with soldiers firing tear gas and sounds grenades at demonstrators, locals said.
Source and more details
at Random Pottins
.
Update (Feb 25):
the Electronic Intifada
has more details on this case or racist colonialist torture and murder. The evidence of torture is clear.
Arafat's family stated that their son was heavily beaten by the IOF [Israeli occupation forces] during his arrest at the entrance of Sa'eer and that he was screaming from the difficult torture he was subjected to. The martyr's wife, Ms. Dalal Ayayda, added that the intelligence officer that accompanied the IOF during the arrest requested that they allow[ed] him to return to his home for a moment to say goodbye to his wife and children. She considers this to be an indicator that his death in the prison was premeditated.
Human Rights activist Hassan Karajah is being tortured by the same "investigators" who killed Jadarat and the abuses are similar:
Addameer's lawyer Samer Sama'an confirmed that Hassan has been subjected to long interrogations by the Shin Bet security forces in Jalameh, and that he is being interrogated by the same investigators that were involved in the martyr Arafat Jaradat's case.
Also last minute reports say that the autopsy of Jadarat's body shows that he did not die of a heart attack as was shamelessly claimed by the Zionists.