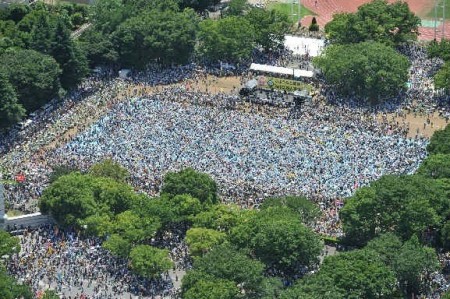 Fukushima Diary
reports
of some 170,000 people (75,000 according to police) marching through Tokyo against reopening Ohi and other nuclear power plants.
The demo began at Yoyogi park and split in three blocs each with one different route.
Among the protesters there were some personalities, who made some declarations:
Nobel Prize Oe Kenzaburo said that:
We are living in insult. We must take down the evil purpose of the government and we can do it. I believe we can live out of the threat and insult from the nuclear policy. Let's keep on fighting.
Elderly nun and author Setouchi Jakucho declared:
Why do we have to expose our lives to such a risk only for electricity ? We shall protect our children. We shall protect our land.
Source and large photo-gallery
at Fukushima Diary
.
See also: a first-person report (video of a conference in Japanese with direct English translation) on the catastrophic health situation in Fukushima Prefecture
at EneNews
.