I know of no figures yet but the images speak for themselves:
The demonstration, in various incarnations, has occupied Madrid all day long. It began at 11:20 at Plaza Colón arriving later to the Ministry of Industry, which was protected by a massive police display. After 13:30 police charged against the demonstrators as shown in this video:
From other informations it is known that police charged against everything, including children and elderly people and passers-by who just meant to take the bus.
Violent police repression continued until circa 15:00.
A second spontaneous protest began before Congress and the central office of the ruling conservative party (PP). President Rajoy and Vice-President Saéz de Santa María had to flee Congress by a back door under heavy police escort.
A third demonstration began at Atocha street at 20:00 called by the platform Hay que pararles los pies (We must stop them on their heels) under the slogan Madrid obrero apoya a los mineros (Worker madrid supports the miners), which marched through the royal town at the cry of dynamite oh-ah!, murderer police, social peace is finished, etc.

This late demo took place without incidents, ending at 21:40 at Puerta del Sol.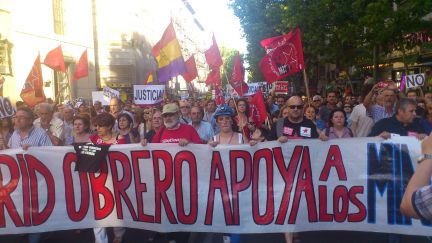 Sources
[es]
:
La Haine
,
Kaos
.
Update (Jul 12):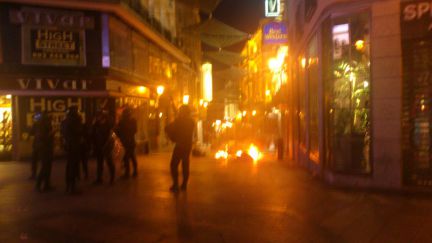 Police also charged in the night against the remnants of the solidarity demo at Puerta del Sol for no apparent reason (
La Haine
[es]
).
76 injured and 8 arrested is the provisional balance of the repression yesterday in Madrid (
Tercera Información
[es]
).
Update (Jul 12):
Among police aggressions, people totally unrelated to the protests, who were taking part in a urban art festival (Mulafest) were brutalized by riot police charges.
Source:
Rolling Stone
[es]
(includes video).
Update (Jul 12):
Quite impressive video of the indiscriminate nightly charges of Spanish riot police in Madrid, beating everybody: passers-by, children, elderly, clearly identified journalists...
What most surprises me are the cries of so many of "I didn't do anything"... Well, time to begin doing something, no? After all they are going to brutalize you anyway...