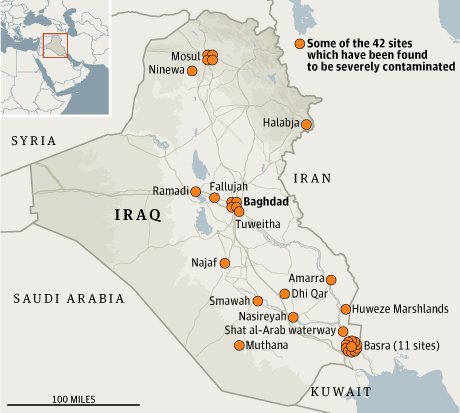 Map of the 2010 Iraqi report
The World Health Organization has blocked, against its mandate, the release of a report on cancer and birth malformations in Iraq. The damages, attributed to the use of weapons of mass destruction by the USA, be them chemical weapons, depleted uranium or even,
some have claimed
, a real nuclear bomb dropped near Basra in the early 90s, seem to be really alarming for the WHO to act this way.
Whatever the case the UN organization is morally and legally obliged to release this report. Blocking the information is a clear act of complicity with genocide.
A previous report by the Iraqi government
in 2010
highlighted the massive damages, mostly attributed to depleted uranium, as well as the pollution caused by the destruction of oil facilities.
Sources:
Global Research
,
Webguerrillero
[es]
.