Under the slogan Jaque al Rey (Check to the King as used in chess) thousands marched through Madrid yesterday in spite of the heavy rain and some arbitrary police interventions.
Carrying many Republican flags, the protesters demanded a constituent process, as well as the tackling of the many capitalist abuses.
Police impeded the arrival of the youth bloc which walked from several working class neighborhoods of Madrid. The protesters were body-searched but the agents could not find any of the alleged "blunt weapons" they supposedly carried.
In spite of that police forces were not willing to let them pass, so, under attorney advise the column marched to the subway, escorted by police, even in the trains, until they met the main demo.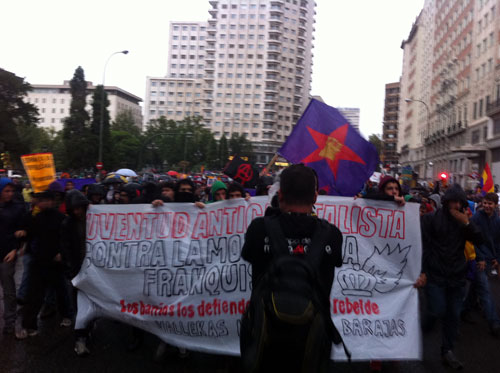 Update:
international observers of the
OSCE
were invited by the Spanish Government to "leave Spain", on the grounds that the demonstration was an "anti-constitutional activity".