Today was the first journey of the 48 hrs. general strike in Greece, considered a total success so far, with more than 80% workers walking out. It has been a hot day full of clashes as well.
The narration hour by hour is available in English (and many other languages) at Contra Info.
Fuck May 68 - Fight! (I can understand that)
This is quite curious: desertion attempts among policemen repressed with military zeal:
17.45 GMT+2 According to eyewitnesses, one police squad's officer threw away his helmet and shield, giving up his democratic duty of massive crowd suppression. Other police squad's cops have beaten him fiercely, forcing him not to leave.
And it's not the only symptom of police going totally nuts:
15.02 GMT+2 Syntagma: The police are throwing broken marble against protesters.
What?!
And prisoners supported the strike too:
14.02 GMT+2 Prisoners' mutiny in the A wing of Koridallos men's prisons; they refuse to enter the prison cells.
Previously they had issued a communication demanding the release of all prisoners.
Also
The Guardian reports
of this new occupation of the Parthenon by communists: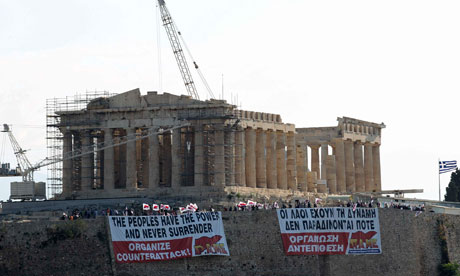 Update (Jun 29):
Reuters' video of the clashes at Syntagma Square
(not embeddable).