In addition to the general protests across the country, today unions have called yet another general strike against the plans to sell off the country to creditor vampires.
In this occasion airlines and airports will work normally in order not to harm the tourism sector but otherwise the whole country is pretty much paralyzed.
As far as I could gather, since early in the day protesters have been trying to storm Parliament, where the high treason is being debated by individuals who obviously do not represent the People anymore.
Source:
Gara
[es]
, see also
photo-gallery
.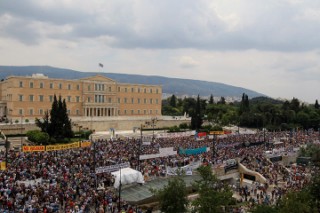 Update:
see also
La Haine
[es]
, including videso, photos and an incomplete chronology of events. Among them:
30,000 people still occupy Syntagma Square blocking Parliament under the motto: we will not leave if you do not first, meaning the government and members of parliament.
In the evening there have been attacks against the Ministry of Economy and a luxury hotel.
At least 12 people injured by the end of the afternoon.
Town halls occupied in several parts of Greece (Crete, Lamia, Serres). Occupants have organized popular assemblies.
Video of some of the clashes, by Russia Today: