It began a whole day ago: the popular protest camp at Plaça Catalunya moved to the Parliament: the idea was to block access and impede the debate of budget cuts, which are cuts against the common people.
Police closed the entrances to the park that surrounds the Parliament and where the sit down was supposed to take place. However by dusk yesterday many thousands were demonstrating at the entrance of the park: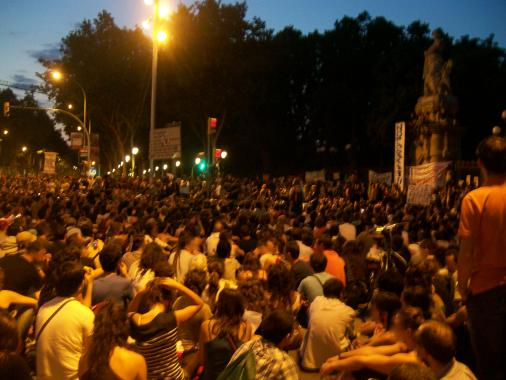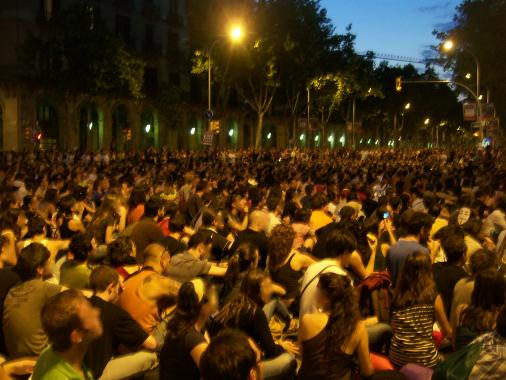 By dawn the protesters had moved to another entrance to the park where workers were accessing towards Parliament. Police attacked them with rubber bullets and got as reply the cry: this is your democracy!
A group of secret police, who were acting as agitators of violence, were identified and wooed. Riot police intervened to evacuate them, although they were unharmed. Watch video because it is most interesting:



Deputies managed to enter, most of them showing sings of shame, looking to the ground. This was only possible because of repeated tactical charges of riot police, which left at least 10 injured.
The President of the Government, Artur Mas, and the President of the Parliament, Nuria de Gispert, accessed the building in helicopter.
By 11:40 it is known that the session began with a delay of ten minutes and half the chamber absent.
In the afternoon there were already 36 injured (by police attacks) attended at emergency services. Three had to be brought to hospital.
The Catalan Parliament eventually could only agree to issue a declaration against the popular blockade and delay the session one day.
The demonstration decided to move to Plaça Sant Jaume, where the City Hall and Catalan Government are. Many demonstrators gradually arrived there by the evening:
Meanwhile charges of the police at Parliament ended up with at least four arrested. Many demonstrators continue attempting to bloc Parliament for another night and day.
The demonstrators of Sant Jaume went back to Parliament by night, the blockade continues under the threatening surveillance of riot police.