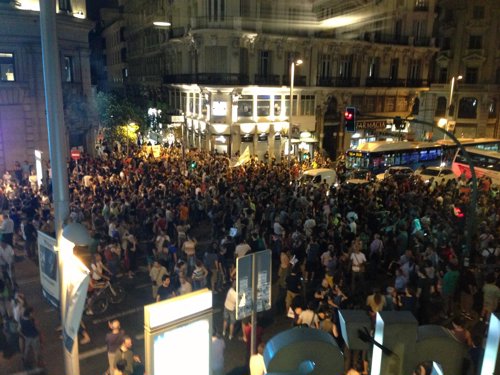 Thousands protested in Madrid and other cities of the State of Spain before the offices of the ruling conservative party (PP) in denounce of the widespread corruption and demanding the resignation of Prime Minister Rajoy, who seems guilty of embezzling and being part of a B account within his party, along with many ministers, former ministers, the party's Secretary General María Dolores de Cospedal and a long etcetera.
In Madrid they chanted: "government resignation for theft and corruption", "theft and corruption is the Brand Spain", "Rajoy and Cospedal to the prison of Soto del Real" or simply "No!"
Other protests took place in Barcelona, Valencia, Málaga, Seville, Albacete, Granada, Palma de Majorca, A Coruña and Badajoz.

In Madrid and Valencia there were many police charges.