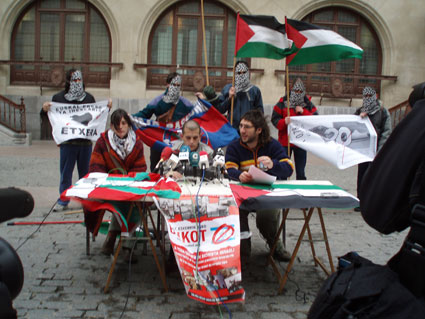 Basque-Palestinian solidarity action
The Zionist colonial apartheid regime (Israel) enjoys a preferential treatment by European institutions, including allowing them, quite anomalously to take part in certain European competitions such as the continental basketball league, the stupid Eurovision music contest, etc.
In the case of basketball that means having to put up with a racist team such as Maccabi Tel-Aviv. This situation is not anymore tolerated by much of the European citizenry and, of course, Basques are among those who like the least the Zionist criminal project and its manifestations, feeling the Palestinian, Sahrawi, Kurdish and Chechen liberation struggles as similar to our own.
For that reason sympathizers of the Palestine-Basque Country Commitee displayed Palestnian banners in protest with the presence of the racist team in Vitoria-Gasteiz on March 24th. This action is fully legal and should have been subject to no sanction whatsoever, as the banner has all the official recognition it may have (UN, IOC even Israel).
At that point another person threatened them and, as they ignored him, he attacked one of them, Koldo Olaizola, trying to take the banner from his hands. Immediately after, police intervened against Olaizola and threw him to the playing field. Then he was arrested and kept immobilized in the basement of the building by a boot on his face.
He was threatened and beaten for a while until higher graduation officers arrived. They wrote down the declaration of the agents who arrested him, who declared that Olaizola had begun a fight. In the background he noticed two people in black clothes "with Nordic looks and shaven heads" he imagined would be Israeli agents.
When he went to hospital he found that all medics acknowledged that "we will sign the report of the lesions but do not expect this to be paid attention by anyone".
This account is based on the declarations of Koldo Olaizola himself. You may believe him or not but, knowing how reality and police is here first hand, I know he is telling the truth.
Also as I do not expect to be any such aggressive Zionist among real Basque citizens (people can be neutral or maybe even sympathetic with Zionism but never in such violent way), I can only imagine that the individual who began the fight was a policeman in plain clothes.
Source:
La Haine
.
PS-
Maybe for inclusion into a later entry on the Arab Revolution as of this weekend, there is an interesting article in Al Jazeera on how even
Israelis
(privileged Palestinians of Jewish ethnicity) are
joining the BDS campaign
.
This offers interesting possibilities because I am persuaded that this revolutionary process knows no borders and will eventually bring the state of Israel down somehow. It'll be better if colonist or Palestine-born Jewish people join the movement for freedom and justice and stop being such dickheads. It'll be better for all: there's a lot of abuses to undo and to repair. The task ahead is still immense.