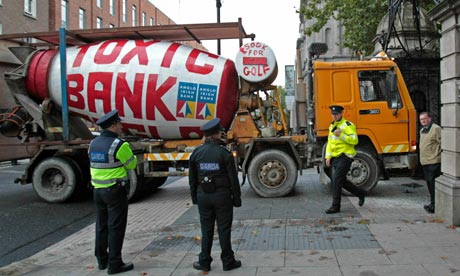 About a year ago a couple of friends and I were sitting around drinking beer and talking. As so often happens today in day-to-day Irish conversation, the economic situation and the repayment of debts was raised. One of my friends said that, naturally, the debts had to be repaid. I pointed out to him that by repaying the debt we were just sending away money to be effectively destroyed.
He couldn't believe what I was saying and I didn't blame him because it sounded like madness. But I pointed out to him that the money the Irish people were repaying by accepting decreases in government spending and increases in taxes was simply going to the central bank and from there it was being destroyed. I explained that what had happened was that the central bank had created a load of new money and thrown it into the crumbling Irish banking sector. Now the Irish people were paying back this newly created money so that it could be destroyed by the central bank.
My friend thought about it for a while and then pointed out that if the new money wasn't paid back and destroyed it would result in inflation. Not so, I said, because the money has already entered the economy. The Irish banks loaned out the money during the boom years and this had driven a speculative bubble in the property market. But now we were just trying to prop up the banks that had made these loans. Effectively we were taking newly created money, throwing it into a black hole in the banking system and then scalping tax payers and citizens so that we could pay back money that would be destroyed by the central bank.
He refused to believe me. The story was too incredible. After all, why on earth would the central bank want the money back if they were just going to destroy it? Why would they want to destroy it if it would not lead to inflation? Politics, I said. He shook his head and took another sip of beer.
That was almost a year ago. To say such things in polite circles was to be labelled a crank or a joker. But now the Irish politicos are beginning to see what's really going on.
...full story
at Naked Capitalism
.