Iruñea - Pamplona
The two simultaneous general strike journeys called in the Basque Country and Galicia and, separately and by imitation, in Spain also, have been a massive success.
Not only even the capitalist syndicates agreed that the support for the strike was massive but the streets of every city and town have been full all day with pickets and truly massive demonstrations that in the case of Madrid gathered almost one million people.
There have been scattered incidents, very specially in Barcelona, where clashes between police and angry youths dominated the journey's info. Several people have been injured, notably a Basque citizen from Vitoria-Gasteiz, Xuban Nafarrate, who was shot with a rubber bullet at short distance and is in severe condition although not anymore struggling for his life.
Inserted update on the police violence victim Xuban:
According to eye witnesses
, police agents beat Xuban before shooting directly to his head with a rubber bullet, what amounts to attempt of murder. As usual the police version is that he fell against the ground all alone.
After being abused that way, Xuban remained on the ground for some 15 minutes spasming because of the brain lesion, and the police agents had no better idea than to beat him again.
All this happened at the doors of the major commercial center El Corte Inglés, where police violence is usually hardest, because they are defending one of the most mafioso business, a true lovechild of fascism, infamous for repressing working rights and freedoms and buying the silence of the media with their advertisements.
(end of the update)
Hundreds have been arrested.
The figures of support in the industrial sector varied between 80% and 100% with every major industry seeing production halted today. In transportation the strike was also important affecting railroads (100%), harbors (close to 100%), air transport (important) and urban transport (less apparent maybe because there were imposed minimal services of 30%). Fresh food markets were blocked everywhere and the impact in commerce was much higher than normal. Media were also affected in some cases, specially public channels, some of which were not emitting or broadcasting only previously recorded programs and news.
Bilbao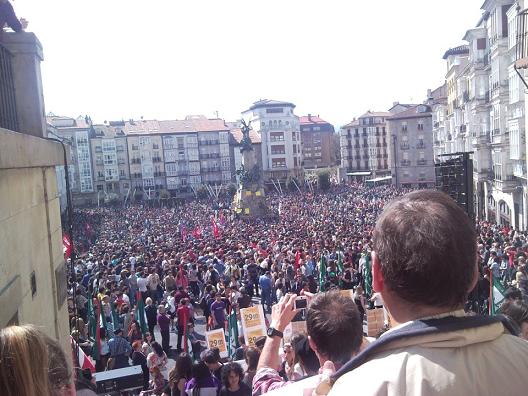 Vitoria-Gasteiz
Galicia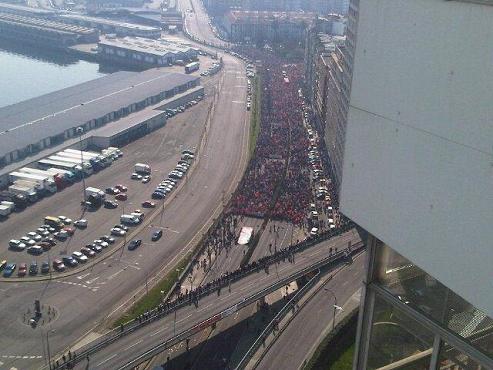 Air picture of the demo at A Coruña
Catalonia
I have not yet clear info but seems that the clashes that characterized the journey were triggered by police, who charged against the demonstration of GCT (anarchosyndicalists, the third state-wide union possibly).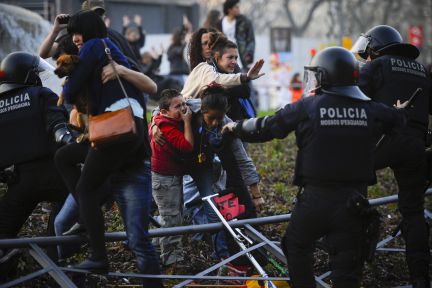 Barcelona: police attacking children?
The repression left at least 22 injured and many arrested.
In regards to
the rest of the state
of Spain, Kaos en la Red covered the strike minute by minute
here
.
Madrid, possibly 1 million demonstrators
They also make a serious
criticism
of the mainstream union bloc UGT-CC.OO., who, while cheering the crowd actually move towards doing nothing else worth that name.
Another reference site is
La Haine
, which also covered the strike minute-by-minute. They report of a second severely injured person in Málaga, who, after being beaten by police, is having his spleen removed.