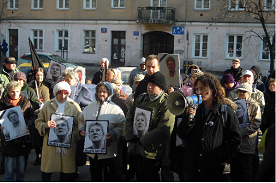 Protest held in Jola's memory
It happened a month ago but this is the kind of news that does not make first pages, not even Warsaw, where the authorities, clearly colluding with the criminals, are trying to hide it under the pretext of "suicide". Nobody suicides by completely burning herself in a hidden forest, so we must declare the authorities in Warsaw accomplices of this crime, just out of common sense, the same that they are accomplices of the privatization without notice or protection of any sort of the homes under dispute.
Jolanta Brzeska, 64, was identified as the body, burnt beyond recognition, found in a forest in the outskirts of Warsaw early in March. She was a leading activist in the association of tenants who are trying to defend the rights acquired when Poland was still a socialist state against the speculative privatization of their homes.
She was particularly confronted with one of the most infamous slumlords, Marek Mossokowski, and was the last tenant refusing to leave what was a valuable piece of real state... but also her home. An apartment that was public property until 2006.
Sources:
Polish Union of Syndicalists
(ZSP)
[en]
,
CNT newspaper
(print edition)
[es]