Yesterday
I reported
outraged that the King of Morocco, on request of the King of Spain, pardoned a serial child rapist, known as Daniel Galván Viña.
The protest yesterday in Rabat was brutally smashed by police (→
Al Jazeera
, extremely hard to find).
Galván's conviction to 30 years in 2011 was a landmark decision that appeared as a change of course in a state that had for decades allowed child abuse to remain unpunished in essence, behaving in fact as a pimp-state. Therefore this pardon has outraged the people.
Blogger Maria Karim said:
This decision humiliates the victims of a sexual predator and sends out a message of impunity to the other predators, who are still free.
In the social networks there is an uproar against Justice Minister Mustapha Ramid, but the minister has blamed the King in a quite unprecedented finger-pointing act against the untouchable throne.
Even the most strongly pro-monarchy politicians are demanding an investigation. This pardon has the potency of becoming a vortex of anti-monarchy and pro-freedom feelings, serving as catalyst to bring to light the widespread sentiment of oppression for living in a totalitarian state with a mere varnish of formal democracy.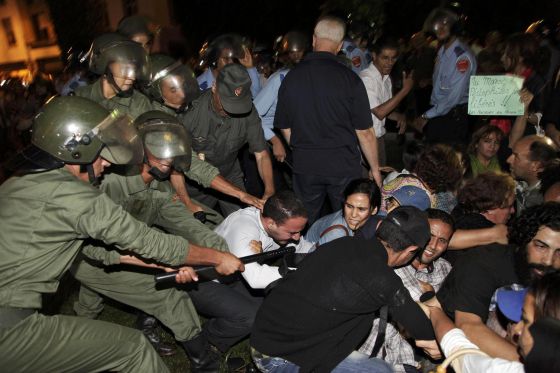 This is not the first time pedophiles get away from jail thanks to a royal pardon. Wikileaks-released cables (thanks Brad Manning) evidenced the release of two such criminals, of French nationality, in 2010.
One of the victims of the Rapist of Kenitra has already tried to kill himself, demolished by the lack of protection of his rights.
Iraqi officer from Basra
But the most striking revelations come from Madrid newspaper
El País
[es]
. This media reports that the pardon was requested by the Spanish secret service CNI and managed by its Moroccan equivalent DGED.
It also mentions that while sometimes Galván pretended to be a former Professor of Oceanography at the University of Murcia (who does not show up anywhere), in other occasions he admitted to be an Iraqi officer who collaborated... with foreign secret services against the Baath regime. His Moroccan attorney acknowledged that he was fluent in Arabic including the Moroccan dialect.
So apparently Galván (or whichever is his real name) was born in Basra, was an officer in Saddam's military who betrayed his country and was paid with money and a new identity as Spanish professor.
However his fluency in the Moroccan dialect makes it possible that his true origin and history is not actually known and that even the Iraq story is a smoke screen he casted in order to satisfy his attorney's curiosity without revealing his true identity. He also speaks fluently English, French and Classic Arabic.
The Moroccan Royal House remains silent. Allegedly the King of Spain only mentioned one name, an ill trucker, when he met his Moroccan colleague and the list of those pardoned has been otherwise elaborated by the Moroccan Royal House. However the name of Galván appears the last of the list, being apparently added in the last minute, a trick in which the Spanish and Moroccan secret services played, it seems, a central role.
We cannot ignore that these two states are vassals of the USA and that it's probably Pentagon or CIA top bosses who have been pulling the strings from behind the shadows all the time. One wonders why this criminal, whose real name we do not know, is so important to them.