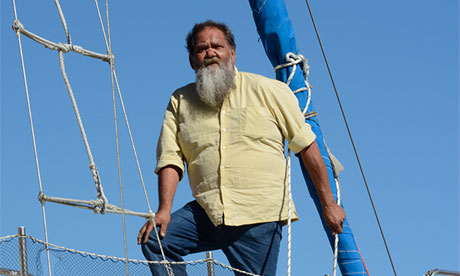 West Papua is occupied by Indonesia since soon after independence. While the agreement of independence of Indonesia placed West Papua still under provisional Dutch control, the newborn Malay state soon managed to annex West Papua, which has no Malay native population, just as they did with East Timor, then under Portuguese control. The USA and UN were instrumental in this undemocratic transaction.
A new imperialism replaced the old one.
Since then low intensity guerrilla has existed in West Papua. The deposition of Suharto, that allowed East Timor to break free, saw no significant change in the conflict of West Papua, still oppressed by Indonesian imperialism, which is speeding up the colonization of the island by ethnic Malays.
Australian, Papuan and Melanesian activists, most of them Aboriginal, set sail yesterday from Cairns in what is an act of cultural-political defiance to Indonesian oppression, described as Aboriginal cultural exchange.
Indonesia has denied visa or authorization for the boat to sail in its waters and the participants acknowledge that they could even been shot down by the Navy. More likely is that they get arrested and jailed for years. That's what happened to several Australians who entered West Papua years ago without visa.