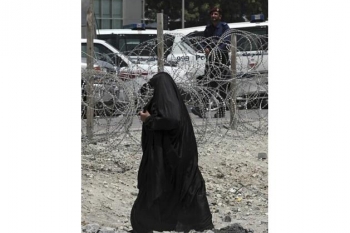 Barbed wire and cement blocks dominate the landscape of Bahrain these days. Today, August 14th, has been called as Tamarrod (rebellion) journey and the totalitarian Khalifa regime has reacted making whole villages into prisons.
The Bahrain Center for Human Rights explains:
On Monday, 13th of August 2013, security forces started surrounding some villages with barbed wire and placed cement blocks to control the movement and prevent protestors from reaching the main roads. Residents of those areas will be forced to cross police checkpoints whenever they need to leave or enter residential areas, which imposes the threat of getting arrested if they were suspected of participating in the protests.
Also the only hospital in the island-state, the Salmaniya Medical Complex, is being controlled by the oversized security forces in a clear attempt to curtail health care for the foreseeable victims of police repression. In the past physicians and nurses themselves have been persecuted just for healing the victims of police.