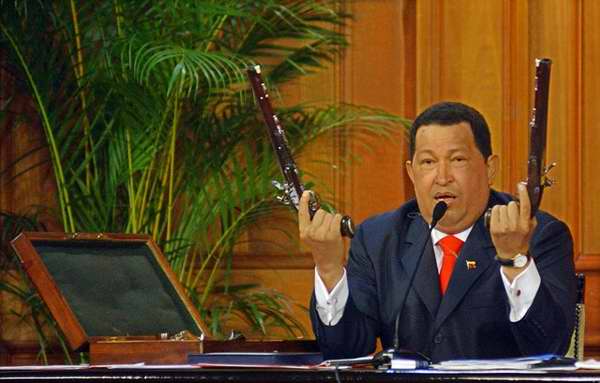 Chávez with the guns of Simón Bolívar.
His sword, the Liberator sent it to Haiti.
(source)
As you surely know by now, one of the most influential political leaders of our time, Hugo Chávez, has died. But his political project, Bolivarianism, is still very much alive and kicking.
I have to admit that when I first heard of Chávez in 1998 I was very skeptic and imagined him as just another Bonapartist leader arisen from military ranks. Nationalist maybe but never imagined that he and his movement, eventually unified as Unified Socialist Party of Venezuela (PSUV) would have such a wide influence, not just in Venezuela but in all America and throughout the World.
I did not imagine either that the socialdemocratic ways they promoted would hold for long. Of course I hoped the best but the excessive rhetoric and personalization of the leadership made me suspect. But then America is not Europe, where personal leadership is less dramatically cheered or even dismissed as personality cult, and where Chávez' fiery verb would have rather caused laughter than driven crowds. Another major difference between our continents is the role of religion: you would never expect so many crucifixes, appeal to prayers or that imaginary being they call "God", not even in the parade of a Conservative, much much less in that of a Revolutionary.
And notice that I say America and not just Latin America because all these traits seem to be shared by all countries of the New World, Latin or Anglo.
But then came the victories of other leaders with similar programs: Evo Morales in Bolivia, Rafael Correa in Ecuador and the return of the Sandinistas in Nicaragua. And then came the
ALBA
or Bolivarian Alliance for the Americas (the acronym also meaning "dawn" in Spanish), founded in 2004 with the intent of partly exit the dictatorship of International Capitalism, creating schemes of mass barter between their members: oil for physicians and stuff like that. The ALBA initially only had two members: Venezuela and Cuba but gradually expanded to the eight states that constitute it today: Bolivia joined in 2006, Nicaragua in 2007, Dominica in 2008, and finally Antigua & Barbuda, Ecuador and St. Vincent in 2009. In addition to these Surinam and St. Lucia are special guest members and Haiti, now observer,
plans to join
soon.
While there are many who think that socialism in Venezuela and most allied countries is still very imperfect, ceding too much room to Capitalism, there are also many others who accept this pragmatic real socialdemocracy (nothing to do with the raw neoliberalism of so many self-proclaimed socialdemocrats of our time, like Tony Blair or Papandreou) is working well for the developing countries of Latin America and is also keeping the torch of socialism alive through rather bad times.
Of course there is also the rabid ultracapitalist opposition but I don't care about what the reaction thinks because the cycle of reaction is reaching its end, trapped in their own unsolvable contradictions. Also they do not love you, only their wallets.
I really began believing, always critically, in Chávez and Bolivarianism anyhow when the Bush-Blair-Aznar alliance of the most evil staged a coup against him in 2002. If the Creationists and the Opus Dei were so badly against him, it was obvious that he posed a real threat to the Imperial Capitalist Regime (aka NATO-plus).
Another epic moment was when he spoke to the United Nations from the same tribune that the mass-murderer George W. Bush had used the day before. His first words were: It smells to sulfur here, what was applauded and cheered by the representatives of way too many nations.
Love him or hate him or just watch him critically between amusement and admiration, one could not and cannot in the foreseeable future remain untouched by this lion. The people of Venezuela have rallied around him and the wider Bolivarian project many times, last one in a total roll-over. But not just them, in Latin America and around the World the project he lead and his overwhelming personality have left a strong mark and a very positive one no doubt.
Viva Chávez!
Update (Mar 7):
a huge crowd bid farewell to the most charismatic President they had since Bolívar himself (source:
LINyM
[es]
):
Evo Morales and Nicolás Maduro