Chronicle of yesterday's and today's street battles in strike-shaken France (from
La Haine
[es]
):
Today Oct 21:
General: many demos of students and workers happened this morning at París, Aix-en-Provence, Burdeos, Caen, Grenoble, Lille, Nantes, Perpignan, Rennes, Rouen, Saint-Etienne and Toulouse. 14 universities are blocked, with assemblies happening in most of them. Direct action by students in support of the general strike is becoming more common (for instance blocking the railroads).
Paris: student demonstration has begun. A parallel protest is happening before the see of the right-wing party Union for the Presidential Majority (UMP).
Lyon: the demo has been suspended after at least 21 people arrested amidst police charges. 500 youths said to be 'retained' by police.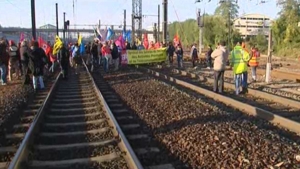 Railroad blockade at Poitiers
Poitiers: police attacked the blockade by some 1500 people of Victor Hugo High School. At least one person injured. Railroads temporarily blocked by students.
Lyon: the situation is being described as state of siege. Riot police has taken the historical quarter with armored vehicles. Several police charges have happened against demonstrators who tried to gather. Justice Minister insulted while visiting the city.
Lyon clashes
Lille, Toulon and Brest: blockade actions reported.
Marseilles: the airport was blocked this morning between 5 am and 9 am, when policemen woke up and attacked.
Yesterday Oct 20:
General: as reported
yesterday
, more than 4000 gas stations (1/3 of all) are dry. 800 high schools blocked, 6 universities also blocked with a total of 11 mobilized.
Lyon: third sequential day of riots. 35 arrested. University is 'preventively' closed till Saturday. Fast trial for those arrested the previous day: 2-5 months of prison with bail. Covert agents dressed as CGT members arrest several, CGT organizers help the police get away (video at main link). Minister of Interior yelled at as fascist and racist. Three arrested in the commercial quarter. Demos and charges all day.
Nanterre: clashes between protesters and police at Joliet-Curie High School.
Sartrouville (Paris' suburb): clashes between police and protesters at Evariste Galois High School. Three arrested.
Paris: small demo before Senate, which is debating the pension law triggering all this unrest. 9 arrested. Orly airport announces 25% flights suspended.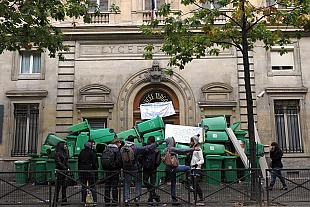 Blocked high school
Tolouse: airport and high schools continue blockaded.
La Rochelle: police intervenes against the blockade of the oil depot (one of at least 12 blockaded by striking workers).
Lorient: clashes with the result of 4 injured and 2 arrested, as the demo, including whole families with children, was attacked by police forces.
Chambéry: police charged against demonstrators sitting at commercial district (videos available).
Saint Nazaire: clashes between students and police. 18 arrested.
Bordeaux: airport blockaded for hours in the morning.
Limoges: riot police attacks demo.