Gara reports
that that, while the Moroccan TV is emitting images of calm corresponding only to the settler neighborhoods in El Aaiun (West Saharan capital), the reality is similar to that of Pinochet's dictatorship: one of state terrorism in which police and settler death squads run amok, destroying homes and specially vehicles, beating people indiscriminately and bringing them to unknown detention or execution places.
Eight bodies have been found at a riverbed, including that of a 7 years-old boy.
It also mentions
that Morocco and the POLISARIO Front have agreed to meet for negotiations in spite of all. They will take place in December and January, instead of November as it was scheduled before the Moroccan aggression.
El País reports
that the Spanish government knew beforehand of the Moroccan attack, what has been denied by the Minister of Presidence R. Jauregi.
France has condemned the expulsion of a member of the French Parliament, communist Jean Paul Lecoq. Meanhwile the expulsion of several Spanish MPs and members of regional parliaments has been totally ignored by Madrid.
Spain is technically, according to UN, the administrator power of West Sahara, as decolonization never happened properly (Spain could not give the Sahara to Morocco unilaterally, according to international law).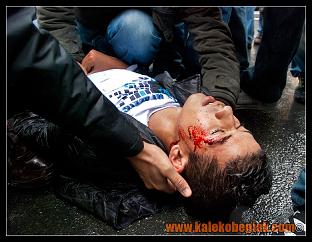 La Haine reports
on the violent attacks by Basque police against legal demonstrators here at Bilbao, after discussing with the Moroccan consulate, injuring several and arresting two. (I knew of this by word but did not know the exact details).