November 20th is a really spooky day in the State of Spain. Being the day in which both iconic fascist leaders (Primo de Rivera and Franco) died, it is also the date when Spanish fascists try to rally most intensely.
But, quite ironically, it is also the date in which many antifascists have been killed. As Lau Haizetara - Sare Antifaxista reminded, iconic Spanish revolutionaries left us this day:
Buenaventura Durruti
, Julián Acero, Aureliano Hernández. And that was also the case for Basque fighters such as Ramón Andueza (executed), Rufino González Barrigón (in battle).
More recently two Basque leftist nationalist politicians were murdered also in this fateful date: Josu Muguruza, deputy elect, was killed in Madrid in the eve of what would have been the first participation of the Basque Nationalist Left in the Spanish Parliament, in 1989.
Also in this black date, in 1984,
Santiago "Santi" Brouard
, physician and political leader, elect deputy and once deputy mayor of Bilbao, who helped to create the Basque language schools known as
ikastolak
, and who had been in prison for singing the
Eusko Gudaria
(
The Basque Warrior
, a hymn) when the King of Spain dared to visit the the martyr town of Gernika in 1983, was murdered by the GAL death squad.
Video (historical document): present-body massive homage to Santi Brouard two days after his murder:
For all these reasons, Basque and Spanish antifascists get to mobilize this day.
Basque Country
There were two flower offerings in Bilbao: one at Plaza Ametzola and the other at Plaza Errekalde. A political meeting took place at the Sports Center of La Casilla under the slogan for what they were... we shall overcome! (left).
Also yesterday evening Lau Haixetara - Sare Antifaxista gathered a group of people at Palza Unamuno (Old Quarter, Bilbao) in order to remember all activists who have died fighting against fascism (photo below).
Catalan Countries
Some 300 people demonstrated at Plaça Univeristat of Barcelona under the slogan: Unity against fascism. Convivence in diversity. This protest was specifically directed against the "new style" fascist party Plataforma per Catalunya, whose message is based in racism and xenophobia against immigrants. This party, which has become second force in the town of Vic, is lead by known fascist militant Josep Anglada, who once run in the National Front lists.
Andalusia
More than 200 people participated in the first legal demonstration against fascism on this date in Granada.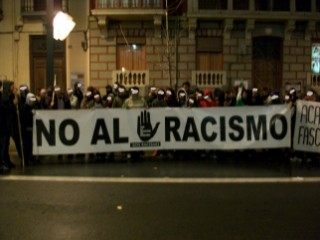 Granada
Some 100 people demonstrated also in Málaga.
Aragon
The activities in Zaragoza were centered around the response to a meeting of a Nazi party (MSR), tolerated by the mayor. For about one hour some 50 antifascist militants managed to obstruct the fascist gathering and overwhelm them with antifascists cries (the fascists were only around 40, not more, brought from all around Europe - go figure!)
In the morning a demonstration gathered some 500 people in spite of police hostigation. The difficult struggle of the Sahrawi people was also present in banners and cries.
Brief video-snippet of the demo:
Castile
Over a hundred people gathered at Gamonal neighborhood in Burgos under the slogan Stop Repression. Precisely because of repression they have been forced this year for the first time to protest outside the city's center.
Some 80 people gathered before the subdelegation of the central government at Ciudad Real. The protest was preceded by a conference.
Some 50 people gathered at El Bierzo (in the remote mountains of León province). Also previously, on November 10th, they filled the town of Ponferrada with posters remembering Carlos Palomino, murdered by fascists in Madrid three years ago. As they say, let it be clear that in the small places, we do not forget nor forgive either.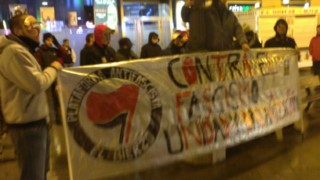 El Bierzo
Merit have these actions of El Bierzo when in the provincial capital, the much larger city of León, not many more, some 100 people, gathered for the antifascist demo.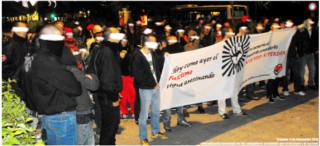 León
Much more numerous was the demo at the state capital, Madrid, which gathered some 1500 people. Follows video:
Also in the Madrid Sierra, hundreds gathered to protest against the fascists who went in pilgrimage to Franco's megalomaniac tomb: the Valley of the Fallen.
Madrid Sierra
Some 200 people demonstrated in Salamanca, the protest was also directed against municipal norms restricting freedom of speech.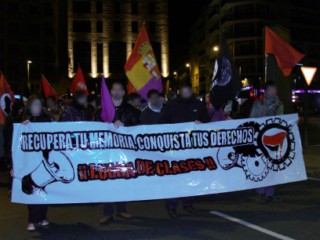 Salamanca
Some fifty people also protested in
Segovia
.
In the historical capital, Valladolid, it was somewhat more numerous: 250 demonstrators.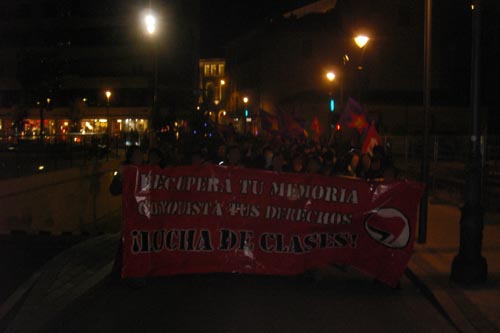 Valladolid
Sources: Sare Antifaxista (
link 1
,
link 2
),
La Haine
,
Foro Social Sierra