This past week has witnessed attempts by fascists gangs of demonstrating in the streets of several European cities. Local antifascists have tried to impede them from doing it, because with fascists there is no possible dialogue: it is them or you.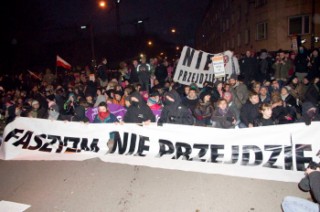 Warsaw
In Warsaw (Poland) some 700 neonazis enjoyed from massive police protection and could end their parade through the center of Warsaw on November 11, while the thousands of antifascists were violently repressed, resulting in some 33 arrested.
Later a protest was called before the police station.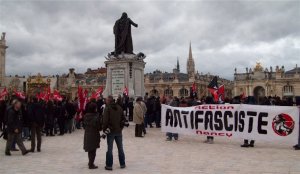 Nancy
In Nancy (Champagne, France) instead some 300 self-called "autonomist fascists" (who insultingly imitate some of the iconography from left-wing
Autonomists
) eventually decided to cancel their parade instead.
It is not the first time fascists copy left-wing iconography and even slogans, remember that Hitler's party was called National Socialist Workers' Party and that Spanish Falange copied nearly everything from the then successful Anarchist union CNT. More recently the kidnapping of the rude boy aesthetic (originally of Anglo-Jamaican brew) or now the sucking of Autonomist icons demonstrates their lack of imagination.