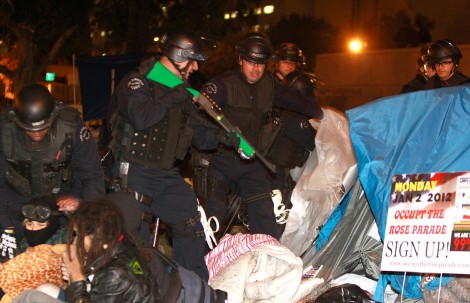 Yasha Levine is a Russian political exile who can well compare the Russian and US police states. And he does, as he was one of many victims of brutal and gratuitous LA police violence in the attack against 'Occupy LA' camp earlier this week. The USA does not result favored even if the abuse in LA was less apparent than in some other raided protest camps:
I finally got home Thursday afternoon after spending two nights in jail, and have had a hard time getting my bearings. On top of severe dehydration and sleep deprivation, I've got one hell of pounding migraine. So I'll have to keep this brief for now. But I wanted to write down a few things that I witnessed and heard while locked up by LA's finest…
First off, don't believe the PR bullshit. There was nothing peaceful or professional about the LAPD's attack on Occupy LA–not unless you think that people peacefully protesting against the power of the financial oligarchy deserve to be treated the way I saw Russian cops treating the protesters in Moscow and St. Petersburg who were demonstrating against the oligarchy under Putin and Yeltsin, before we at The eXiled all got tossed out in 2008. Back then, everyone in the West protested and criticized the way the Russian cops brutally snuffed out dissent,

myself included

. Now I'm in America, at a demonstration, watching exactly the same brutal crackdown…




While people are now beginning to learn that the police attack on Occupy LA was much more violent than previously reported, few actually realize that much—if not most—of the abuse happened while the protesters were in police custody, completely outside the range of the press and news media. And the disgraceful truth is that a lot of the abuse was police sadism, pure and simple...
... continue reading
.