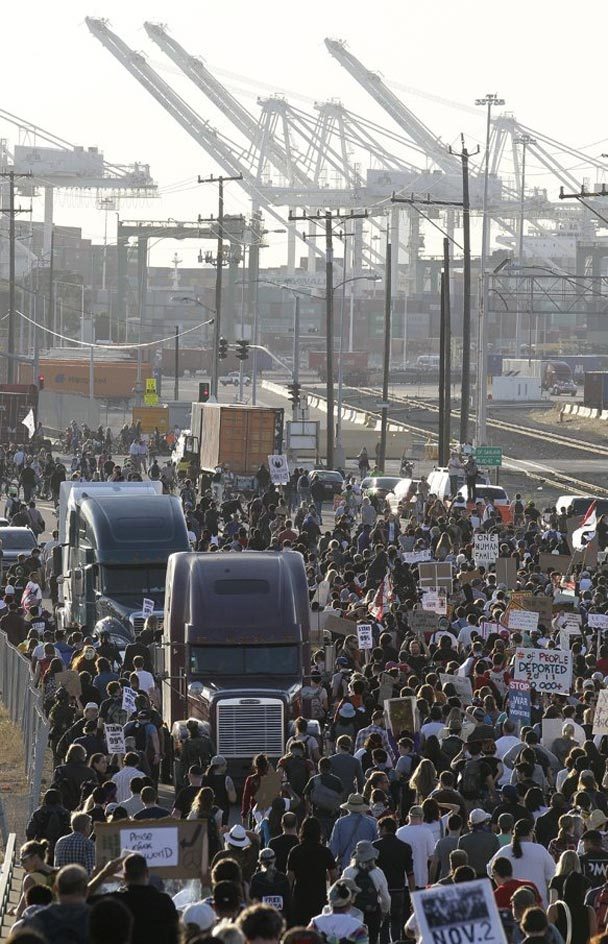 The general strike launched by
Occupy Oakland
last week as response to the violence of police repression has been at least a big partial success: a huge multitude forced the closure of one of the most important harbors of the USA and the World.
This action and its success is very important because it does escalate the capability of action of the popular or working class camp (the 99%) to a new level, being the first general strike in the USA since the 1940s.
It is also important because it has been able to mobilize a huge number of people and has left the authorities, lackey to the bourgeois class (the 1%), rather powerless and almost obliged to tolerate the popular protests.
Let's not forget that what really triggered the overthrowing of Mubarak was not so much Tahrir Square protests (that also) but the fact that the revolutionary mood was permeating to the factories and sectorial and even general strikes threatened with depriving the oligarchies of their ill-gotten gains.
Occupy Oakland reports
:
Huge, enthusiastic, crowds swarmed through downtown Oakland with half a dozen major marches on banks and corporations that shut down Wells Fargo, Chase, Citibank, Bank of America and many others. Police stayed clear of the strikers who ranged freely, from Broadway to Grand Avenue and around the Lake. By late afternoon the crowds had swelled to over 10,000. Waves of feeder marches continued to pour into the Oscar Grant Plaza, including 800 children, parents, and teachers who had gathered at the Oakland Main Library. The evening march to the Port stretched from downtown to the freeway overcrossing in West Oakland and thousands more protestors kept arriving as the third convergence of the day reached its peak. Over 20,000 people joined the march which made its way to the main entrance of the port and shut it down completely. Port officials confirmed that the workforce was sent home.
Back at Oscar Grant Plaza a festive atmosphere continued as the Alameda Labor Council and dozens of representatives from a cross-section of unions served barbecue to thousands. Day of the dead altars, a 99% story telling tent, string sculptures, and hundreds of posters surrounded the encampment of the occupiers. Speeches, impromptu music jam sessions, and rock and roll echoed off the office towers as Oaklanders and Bay Area workers celebrated a hard won victory of the 99%.
As of 8 pm the police remained hidden out of sight.
Seize the Time!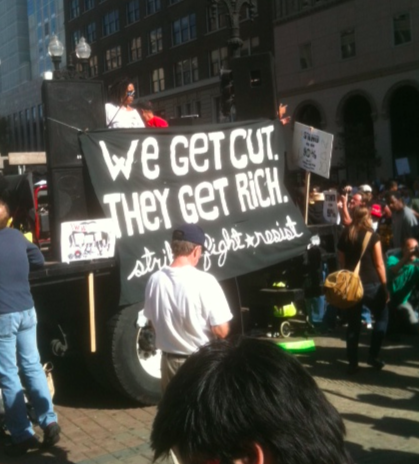 Photos from:
Occupy Oakland
,
Washington's Blog
,
Naked Capitalism
.
Live Stream:
link 1
,
link 2
.